USA – California
In December '99 I made a trip to the US. I planned a 1 week stay in California where I wanted to travel from San Francisco to Los Angeles. It was a bit of a challenge because I was traveling alone, and that could give some problems because of my personal situation.
My personal situation
Since 1989 I have to rely on a wheelchair because of an accident I had which broke my neck. Although I still have the use of my legs, I can't walk far enough to get around without my wheels. But… with my wheels I'm mobile, and I don't need any help getting up and around when the day starts. Both issues are essential when you decide to travel alone!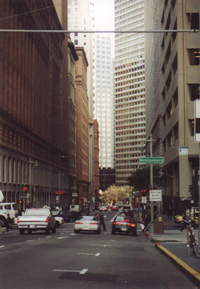 At time of this writing (July 2002), I'm a 37 year young male living in the northern part of the Netherlands (Europe).
California: here I come!
Planning is half the work and a lot of fun! The Internet has tons of information about almost all places in the world. Google is always a good place to start! Almost everything you can book online (flights, hotels, etc.). When going to the US, a creditcard is essential by the way. Without it, it is almost impossible to book a hotel. Booking using the Internet has a con… A hotel for example might look great on the Internet….. in reality you might find yourself in a building which would be a good place to shoot a horror-movie. Don't say I didn't warn you! 🙂 Personally I wanted the freedom to put together a package which suited my needs, instead of booking a compete vacation including flight, hotels, transportation, etc. Beside the freedom of putting together a package yourself, it is often a lot cheaper. But it will cost you time to arrange everything yourself… Travel-agents offer complete holidays, but a lot of them also offer parts from the complete package, for example only the hotel or only the flight. So you can shop around taking only the parts you like from different agents around the world. I booked my flight to the US using a Dutch travel-agent, 1 hotel using an US travel-agent, and 2 hotels and transportation by myself. Btw, there are also travel-agents in the US which offer flights to the US, but believe me…. my heart missed a beat when I saw the prices they offer…
The flight
You can book your flight using a travel-agent or direct with the airline you want to fly. Especially to the US there are a lot of cheap offers! Using such an offer might mean you have to switch planes somewhere enroute (don't worry… they will land the plane first 🙂 ). For me it meant departing from Amsterdam, landing in Washington, departing from Washington 2 hours later on a domestic flight, and landing in San Francisco. When traveling with a wheelchair you have to arrange a few more things before you can fly… First of all tell the airline company about your handicap and the help you will need from them (you can't go inside the airplane when you are still in your wheelchair). Most airports have people on their payroll which daily job is to help people with disabilities on and off airplanes and everything that goes with it. Don't be afraid to ask! Normally when the airline knows about your little problem, they will arrange this with the department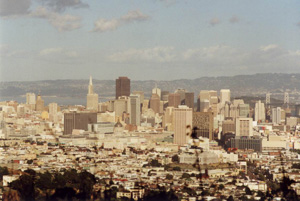 responsible for this service. If you want to be sure or have questions how for example you will get from the parking to the terminal, just call them! Personally I was impressed with their service! When I arrived with my car on the parking, I gave them a call and in about 10 minutes the picked me up with a van accessible for wheelchairs. They brought me to the terminal and left me after I had dropped of my luggage and were sure I could make it on my own until boarding. After customs, shopping, coffee, and a cigarette, I made my way to the gate, and yes…. there they were again. When traveling in a wheelchair most airlines wants to have you on board before all the other passengers (and have you off as last one). Not because they love you so much, but because they have to bring you to your seat in an aisle-chair. At the end of the gate, just before entering the airplane, you will have to hop over on the aisle-chair which is small enough to move between the chairs of the airplane. If you are not hopping so good they will help you with your transfer… You wheelchair is labeled and will go down to the luggage compartment of the airplane. Don't be sad…. you will get it back after landing! I was flying with United Airlines and everything went smooth! After landing two employees from Washington-Dulles helped me out the airplane, and after I transferred back in my wheelchair (observed by three beautiful United stewardesses) one of them guided me trough customs (no waiting in line, hihi). When boarding for San Francisco the same procedure as when boarding in Amsterdam and when landing on SFO they even arranged a van which brought me to the car-rental company. United rulez!
Transportation and communication
The law in the US concerning driving a car with a disability is a bit different than in the Netherlands (and probably other countries in Europe). In the Netherlands I'm driving a car with an automatic transmission (common in the US), with the throttle left from the braking paddle. In the Netherlands it is forbidden for me to drive with for example hand-controls because I don't have a notification on my driving license concerning such a modification. In the US you can drive with such a modification even if you don't have such a notification on your driving license. The standard modification you can get when renting a car is the US are handcontrols. If you ask them they might go a step further, but if you are familiar with hand- controls or think it won't be a problem for you, it is the easiest way. Be sure you arrange the car-rental before you leave (call or e-mail). Tell them in advance what kind of adjustment you need, and the car will be waiting for you when you arrive. Car-ensurance is optional but highly recommended! It will cost you some extra dollars, but you won't get in financial trouble when you get caught up in an accident. If you want you can also rent a cellphone when you pick up the car (make sure the company of your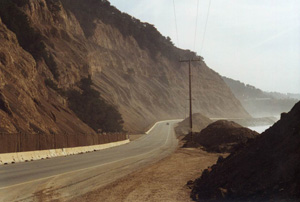 choice offers this service). Because the US has a cellphone-network which is using another frequency than in Europe, your own cellphone might not work in the US. If you want to rent a cellphone, don't forget to take your SIMM-card with you. Calling this way from the US is very expensive btw…. Check what kind of roaming-deal your provider has made with US providers before you leave! I rented a car with handcontrols from Hertz. I never drove a handcontrolled car before but I had 18 miles to practice before I entered the big city. Used to Dutch traffic, driving in the US was great! People are much more relaxed in traffic! And outside the city it's 'just cruising…'. I picked the car up on SFO, cruised after two days from San Francisco to LA, and dropped the car off at the Hertz building on LAX airport.
Hotels
I booked three hotels in advance when planning my trip. One in SF, one in LA, and one in between. You might not want to do this. In the city for example there are a lot of hotels, so you have a lot of choice. And when business isn't super, you might get a room for a fraction of the standard price. All it takes is some talking and a friendly smile. In my case I searched for another hotel in LA. After some talking the room went from $180 to $80 per night. A lot of hotels in the US have wheelchair accessible rooms btw…. On my next trip I will probably only book a hotel in the city where I arrive, so I don't have to search for a place to sleep after a long travel. Be aware when booking a hotel using the Internet. A little story…. When searching the Internet for a hotel in LA, I saw a picture from a hotel belonging to a respectable firm just 5 minutes away from Hollywood. Beautiful! Nice building, nice street, palm trees, the works! When arriving in LA, I followed the directions on the map which would bring me to the hotel. Knowing there are places in LA you don't wanna be after dark, I began to feel uncomfortable. The neighborhood was getting worse by the mile, garbage on the street, billboards only in Spanish. When I saw the hotel, it looked just like in the picture, only the picture didn't show the neighborhood it was standing in. I pulled my car into the parking below the hotel. It was almost empty, little lightning, and in the corner there stood a car…. without wheels. And I thought.. 'Oh boy, this isn't happening!'. I got out of my car, rolled to the elevator which was located in a small pace with dimmed lights, and hit the elevator-button. Nothing happened. I called the receptionist on my cellphone, and asked him to come down. In half English, half Spanish he explained to me the elevator has been broken for a long time. I canceled the reservation, and he had no problem with that. I got back in my car and got the hell out of there! Back on the Hollywood-freeway I saw a hotel which looked OK. I got off the freeway, parked my car, and after a 5 minute conversation with a friendly Chinese receptionist, I got a great room with a $100 discount. The next morning when I pulled open the curtains I stood eye to eye with the Hollywood-sign…. Although I can't remember when I ever felt so uncomfortable, this adventure turned out to be a nice travelstory and in fact I wouldn't have want to miss it for the world! Nevertheless I will book my hotels on site when possible….
Personal impression of California
California is a great place to be, and even the winter temperatures around 20 degrees C are very normal. A lot of buildings are very accessible for people in a wheelchair. They really gave it some thought! San Francisco is a great place to be. It is build on a mountain, so roads can be enormous steep. Not very suitable for a wheelchair (you might die when going downhill 🙂 ), but it is a thrill when hitting the throttle and blasting to the top driving a 6 cylinder Ford! Downtown is flat, so not much trouble there…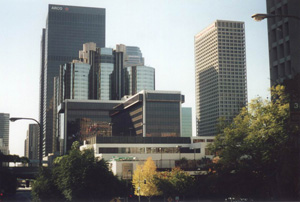 People are friendly and there are a lot of things to see when visiting SF as a tourist. You will have a great view looking out over the city when you travel to the other site of the Golden Gate Bridge. The nature in the bay-area surrounding SF is beautiful. I recommend the '49 mile scenic drive'! It will take you through San Francisco and parts of the bay-area. I went from San Francisco to LA using Highway 1. It's a beautiful route along the pacific coast which will take you through the mountains. Sometimes you really are in the middle of nowhere. No radiostations, no cellphone-network. You better keep your car on the road! 🙂 Los Angeles is beautiful and terrible at the same time. It's a very very big city with probably the richest and the poorest people living in our western society. I was a bit shocked by the enormous contrast. Limousines waiting for the trafficlight with an old homeless woman next to it, working her way through the garbage to find something to eat. It's nice to drive over Sunset Av. to the west. Starting in Hollywood (which isn't that beautiful anymore), you will drive through West-Hollywood, Beverly Hills, and Bell Air. The further you get to the west, the richer it gets. There are also a lot of places where you better stay away, especially after dark. After dark the city changes. I sometime had the feeling I was sitting in a war-zone. Police helicopters over the city, about every 20 minutes a police siren. A bit creepy… On warm days LA is very smoggy! California is a great place to be, especially when you have to rely on a wheelchair! And hey…. they call it the Sunshine State… what more do you want!