France – Vosges Mountains
In 2007, 2009 and 2010, we spend our holiday in the Vosges mountains in France. The Vosges mountains are located in the northeastern part of France. In 2007 we stayed in an appartment in Lapoutroie, in 2009 and 2010 we rented an appartment about 9 kilometers southwest of the village Orbey. Both apartments were adjusted for wheelchair use.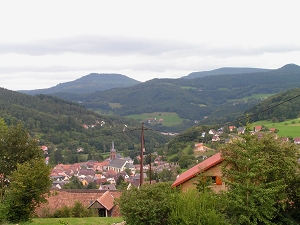 This page will be (as the other travel-pages) a combination of a travel story and a tips & tricks page. A lot of the tips are useful for people who travel in a wheelchair.
Our personal situation
Since 1989 I have to use a wheelchair because of an accident I had which broke my neck. We live in the northern part of the Netherlands about 800 km away from our holiday destination. We travelled by car and took our little one with us.
The planning
When trying to find a wheelchair accessible accommodation, you can't do without the internet. But even with the internet at your fingertips, it can be really difficult. When searching a suitable location in France you also need to understand the French language. Only a few websites have an English section. Ellen and I found a few suitable accommodations in the northeastern part of France. Life is about choices, so in 2007 we decided to choose a nice looking apartment called "La Repandise". It's located in Lapoutroie, a little village about 30 km west of Colmar. For our 2009 and 2010 vacation, we went to "Les Brimbelles", a few kilometers soutwest of the village Orbey. Both apartments are located in the same area. Although both accommodations are suitable for wheelchair use, I recomment Les Brimbelles in Orbey. If the apartment is available, look no further!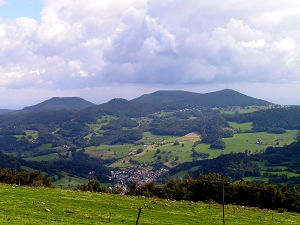 La Repandise, Lapoutroie
After a trip of 800 km, we arrived in Lapoutroie. Our apartment was a bit hard to find at first, but after a lot of searching and asking we found it west of the village. It was located on a hill, overlooking the village. Our apartment (gite) was located on the third floor of a French styled cottage and accessible via a road going uphill to the entrance. Inside it was very cozy and the furnishing very tasteful. It had all the luxury you can imagine. Washing machine and dryer, dishwasher, microwave, etcetera. It had a toilet and shower suitable for wheelchair-users and a bed that should be high enough for a wheelchair-transfer. The view, overlooking Lapoutroie and the surrounding Vosges mountains, was beautiful! But there was also a downside. The floor in the apartment wasn't exactly flat, and that is an understatement! When you are in a wheelchair with two healthy arms, you might not have a problem with that. For me, as a partly quadriplegic, it was hard work! When you have little children, check the surrounding area outside for hazardous places. When we were there in 2007, the area around the house wasn't child proof and that also is an understatement! No fences where they should have been, for example. Nowadays the apartment is called "La Corneille Blanche".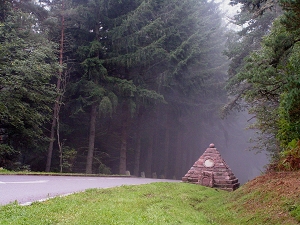 Les Brimbelles
In 2009 and 2010 we went back to the same area, but this time to another location. Les Brimbelles is located a few kilometers southwest of Orbey, near "Col du Wettstein". Owners are the family Cashin, a cheerful Irishman with his French wife and three little children. The building is located at the edge of a forrest and the apartments are located on the first floor. Two in total, one suitable for wheelchair use. You can reach the apartment using a slope. Because it's a bit steep, you might need a push if you are in a wheelchair. Arriving at "Les Brimbelles", we had a very warm welcome. The owner, Steve Cashin, picked up a bottle of wine from downstairs and while enjoying the wine, he told us a lot of things about the area. The apartment itself is very cozy, with all the luxury you need and as a wheelchair user, I had no trouble at all! Around the house is a big garden and as far as I could see, the area around the house is child proof. Because the apartment is located higher up in the mountains, the temperature is a about 5 degrees lower than in the valley. Great place, very nice family, the place to be! For more info, you can check their website.
The Vosges Mountains
The Vosges or Vosges Mountains (de Vogezen in Dutch) are a beautiful mountain range in the northeastern part of France. The highest point of the Vosges is the "Grand Ballon", which rises up to 1424 meter. From 1871 to 1918 a big part of the area was occupied by Germany, which you can see in a lot of things, especially in the architecture. Colmar for example, almost looks like a German city. The landscape is stunning! If you love the mountains, you will feel right at home. Personally I found the area near "Col du Wettstein" very impressive. A lot of people died there during the 1st world war. And don't forget to visit Orbey, a nice town a few km south of Lapoutroie. For more in-depth information about the Vosges, you can look at this article on Wikipedia.
Conclusion
The Vosges mountains is a beautiful area to spend your vacation. For me "Les Brimbelles" is the place to be! A Beautiful apartment in the middle of the mountains, very suitable for wheelchair use and very nice owners!