Germany – Schwarzwald
In the 1st week of October 2006 we went on vacation to the Black Forest (Schwarzwald). It's a beautiful area in the south-western part of Germany (Baden-Württemberg) starting somewhere below Karlsruhe and going all the way down to Basel. I have been there before about 21 years ago (please Grandpa, tell us some more stories :-)) when I was still in the Royal Netherlands Air Force and visited the Canadian Air Force base near Baden-Baden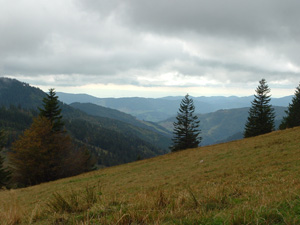 (CFB Baden-Söllingen). I remember the beautiful landscape and till this day I find it the most beautiful area of Germany I have seen so far. Both Ellen and I love the mountains, so this could be a great holiday destination! Take a look at Wikipedia for more background information on the Black Forest.
Our personal situation
Since 1989 I have to use a wheelchair because of an accident I had which broke my neck. We live in the northern part of the Netherlands about 800 km away from our holiday destination. We travelled by car and of course took our little one (almost 2,5 years old) with us.
The planning
As always it's a real challenge to get something suitable when you are in a wheelchair. When your destination is Germany it's a different story! Two years ago we stumbled upon www.rollstuhl-urlaub.de and found a suitable accommodation in the Eifel. This year we found a great ferienwohnung in Hinterzarten and again by using this great website! Ellen contacted Mrs. Ruth, the owner of the apartment, and booked the accommodation for the first week of October. We communicated via telephone and normal mail because they did not have a website or an e-mail address. More about "Ferienwohnungen Familie Ruth" later on in this article…
On our way…
Because it was a long trip we decided to start our journey in the evening and keep on driving all night until our destination. That way Dylan could sleep almost all the way and hopefully Ellen would also catch some hours of sleep (I was doing the driving part). The Ellen-and-sleep part didn't work out like we hoped and by the time we arrived in Hinterzarten she was up for 30 hours in a row. She's a hero! 🙂 The trip itself went ok! The weather-forecast predicted a lot of rain but we were lucky! We kept it dry until Frankfurt, about 500 km down the road. After that it was raining cats and dogs! In Germany petrol stations are further apart than I am used to in the Netherlands. But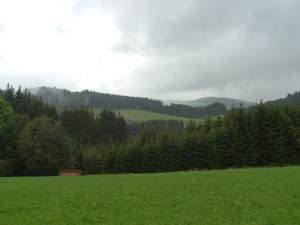 most of the petrol stations are accompanied by a restaurant (Rastätte) which is open 24/7. Great service! Not bad at all when you are on the road in the middle of the night fighting cats and dogs! It was half past 3 in the night and we decided to stop for a cup of coffee and something to eat. The windscreen wipers where moving hi-speed hoping to create some kind of visibility. We took the exit to a Rastätte near Alsbach, and got out of the car. It was four o'clock in the morning and the three of us were sitting in a quiet restaurant enjoying something warm to eat and drink. Outside the rain was pouring down. Life is good! A few hours later and 220 km further down the road we arrived in Freiburg, a city in the southern part of the Black Forest, and about 30 km west of our destination Hinterzarten. Because our car drives on LPG (Liquified Petrol Gas) we first had another mission to accomplish: find the petrol station that sells LPG. In Germany LPG is still kind of rare. If you want to find a petrol station that sells the stuff you better get some kind of LPG Guide Europe or do your homework on forehand. http://www.gas-tankstellen.info is a website with a lot of information. Be aware that most petrol stations along the freeway DON'T sell LPG. And don't confuse LPG with CNG which is something different.
Ferienwohnungen Familie Ruth
With our gastank filled up we arrived in Hinterzarten were Franziska, the daughter of Mrs. Ruth, gave us a warm welcome. She lives with her husband Clemens and their children above the apartment that is located in a beautiful German-style house (see photo). Mrs. Ruth herself, who lives next-door, was away and would be back the next day. The apartment itself was more than great! As a (partly) quadriplegic I am a fulltime wheelchair user and I had no problem whatsoever. For me everything was well adapted and accessible!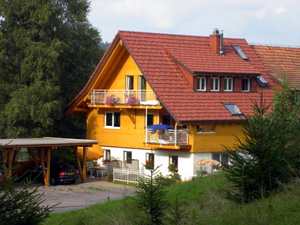 But of course everybody has it's special needs and therefore it's potential problems. If you need special adjustments like for example triangles (or whatever you call them in English) above the toilet or an electric adjustable bed you might reconsider. The bed is high enough though! For the average wheelchair user I give it an 8+, and that's one of the best I've seen so far! A bit more about the background of this accommodation…. Mr. and Mrs. Ruth decided to build a wheelchair accessible accommodation out of gratitude for receiving three healthy daughters! I find this attitude to life admirable! They are also the only wheelchair accessible accommodation in this area, and believe me… there are a lot of accommodations in the surroundings! We met Mrs. Ruth the day after we arrived. She is a nice and warm person just as we expected. Mr. Ruth died very suddenly about two years ago. I think his spirit lives on in the house that he build…. More information you can find on rollstuhl-urlaub.de.
Hochschwarzwald
Hinterzarten is located in an area called the Hochschwarzwald and has an elevation of almost 900 meters. The highest point in the Black Forest you can find at Feldberg, which is not far away (elevation 1500 meters). From Feldberg there is a road to the top but it is not accessible for normal traffic. You have to walk or take some king of ski-elevator, which is accessible for wheelchair users by the way. The views when going to the top are stunning! But not only Feldberg is beautiful. If you love mountains the Black Forest is the place to be! When driving around you will see a lot of restaurants along the way. Unfortunately most of them aren't wheelchair accessible. We know there are two places in Hinterzarten that are wheelchair accessible: s'Pfännle in the Freiburger Strasse (European kitchen) and one of the Pizzeria's (heard of). Outside Hinterzarten you have an opportunity when travelling north in the direction of Breitnau. Before reaching Breitnau you will have a restaurant on your right-hand side called Muhlen Café. Accessible, good kitchen, affordable! About three kilometers east of Hinterzarten you'll find Titisee. Although the Titisee self is beautiful, the village is not our kind of thing. To me it almost looks like the hotels and restaurants outnumbered the people living there.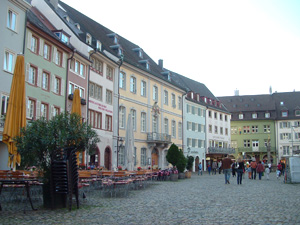 I suggest driving a few kilometers more to the east to Neustadt which is worth a visit. If you take the L156 from Titisee you will find a big supermarket on your right-hand side before entering Neustadt. As I mentioned earlier in this article Hinterzarten is located 30 kilometers east of Freiburg. If you want to go shopping, catch a terrace, or just enjoy the architecture this is where you want to go! Both Ellen and I fell in love with this beautiful city. Münsterplatz is nice and Rathausplatz is even more beautiful. For more background information on Freiburg you can take a look at the article on Wikipedia. Last but definitely not least: the village Hinterzarten! It's a little resort village with a population of about 2700 people. The village feels warm and friendly. There are a lot of hiking and bicycle trails in and around Hinterzarten. I don't know if the trails are wheelchair accessible, but you can check the local Tourist Information Office for more information. As a disabled tourist in Baden-Württemberg (and maybe other parts of Germany, I don't know) you can travel free of charge with the German railroad (Die Bahn). If you are in a wheelchair you have to call a service number 24 hours in advance of your planned trip. When they know you are coming they will help you to get in and off the train. If you don't call in advance they might refuse you.
Back home
After a great week in the Black Forest we left Hinterzarten behind us. We decided on forehand we would catch a hotel somewhere halfway down the road. After a pit-stop at Baden Airpark (the former CFB Baden-Söllingen) we ended up in a good IBIS Hotel in Frankfurt. The next day we drove the remaining 500 km home after we first got ourselfs a cup of coffee in the center of Frankfurt. The end of a great holiday!
Conclusion
The Black Forest is great! The nature is stunning and the hospitality warm and friendly! The members of the Ruth family are great and they will let you feel right at home. Will we go again? Definitely!