Germany – Westeifel
In the first week of September 2008 we went on vacation to the Eifel. It was not our first visit to the region. In 2004 we stayed in the Vulkaneifel, located in the eastern part of the Eifel. This time we traveled to the Westeifel, near the border with Belgium and Luxembourg.
Our personal situation
I'm a male of 43 years old (2008) and after an accident in 1989, walking became wheeling. I am a partly quadriplegic (C5) using a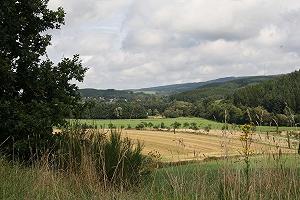 armpowered wheelchair. We (my girlfriend and my 4 year old son) live in a city in the northern part of the Netherlands. We traveled the 450 km to our holiday destination by car.
The planning
When you are using wheels to get around, most of the times it is very difficult to find something suitable! Since we found www.rollstuhl-urlaub.de, back in 2004, finding something in Germany is a breeze. Because we wanted to stay a bit closer to home this year, we started searching the internet for a suitable place in Belgium, Luxembourg or Germany. Because Ellen and I love the mountains, the Eifel in Germany was very much an option! After some consideration, we decided to go to Bleialf, located a few kilometers east of the German-Belgian border. Bleialf is a little German town in the Westeifel, with a population of about 1000 people. It is located in the district Bitburg-Prüm and that name should sound familiar to you, if you are a beer lover (Bitte ein Bit).
Arriving in Bleialf
Bleialf is located 6 km southeast of it's exit on freeway E42. Our navigation system directed us to Ferienhaus Fam. Gönen, the apartment we rented in the Eifel. The Gönen family have 4 holiday apartments and three of them are fully adapted for wheelchair use. The four apartments are located in a German style house on the edge of Bleialf, but because it's a small town, the supermarket and other stores are very close by. The family Gönen are living across the street.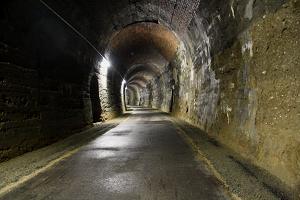 Some roads are pretty steep, so when you are a wheelchair user like me, you might needs some help from time to time. Downhill is noooooo problem!
The apartment
Our apartment was located on the ground floor. With a satellite television, electric oven, microwave oven and a washing machine, the apartment is well equipped. Our apartment had two bedrooms (a one- and a two person bedroom), with beds on wheelchair height. The one person bedroom has a bed which is possibly electrical adjustable, but I'm not sure, I didn't check. The bathroom is also adapted for disabled people. The toilet was high enough for me, but if that's not the case for you, they will make it higher with some kind of adapter or arrange a toiletchair for you. If you want to shower, you will have to transfer into a shower-chair. As a partly quadriplegic I had no problem showering. If you think you might, ask the family Gönen if they have a solution. I have almost no negative comments about this apartment. The family Gönen offer a great place to stay. The only thing I can think of, is the bad GSM receipt indoors. And our apartment had no room with a view. I believe the apartment on the 1st floor (also suitable for wheelchair use) has a better view. But hey…. who cares! Who wants to stay in?! Get out and have fun! 🙂
The German Westeifel and the Belgian Ardennes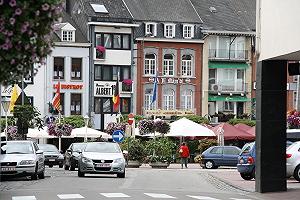 The Westeifel and the Ardennes are both regions with a lot of forests, rolling hills and mountains (highest point between 600 and 700 meters). If you love the mountains, you will love the scenery of the Westeifel and the Ardennes. A lot of nature, great landscape and fun roads to drive (me Schumacher 🙂 )! If you love (hand)biking, I have great news for you. There is a great bicycle trail called the Eifel-Ardennen Radweg. It starts in the eastern part of the Eifel near a village called Adenau and goes via Prüm in de Westeifel, to St. Vith in the Belgian Ardennes. The western part of this route, from Prüm to St. Vith, is for a big part placed on the trail of an old railway. This means there are no steep climbs and descends in this part of the route. And that is good news for a (partly) quadriplegic handbiker like me. Near Bleialf, the route goes through a 400 meter long railwaytunnel, which is a unique experience. Of course the old tunnel (build in 1917) is not in use anymore. I think it would be bad for tourism, if it was… 🙂
Conclusion
The Westeifel (and Bleialf in particular), is a great holiday destination! A good starting point for a city trip to Bitburg in Germany or to Malmedy in Belgium (both about 60 km away). Or go to dinner in Prüm, after a great day of walking or biking. When you are disabled, I really can recommend the apartments of the family Gönen, and I'm not getting paid for it. 🙂 Will we go back? Yes, no question about it!